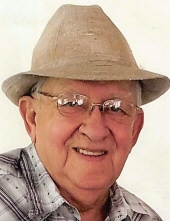 Loren Schleuter, age 85, of Estelline, SD, passed away on Tuesday, January 21, 2020 at the Sanford Hospital in Sioux Falls, SD. Celebration of life gathering will be 1:00pm to 4:00pm on Saturday, January 25, 2020 at the American Legion in Estelline, SD. Arrangements are entrusted with the Houseman Funeral Home-Birk Chapel of Hendricks, MN.
Loren Wiley Schleuter was born on February 17, 1934 in Clear Lake, South Dakota to parents Julius and Vera (Weisel) Schleuter. He graduated from Clear Lake High School in 1952.
On September 21, 1952, Loren was united in marriage to Marj Krause in Goodwin, SD and to this union they were blessed with six children. After their marriage, Loren worked for several farmers. He managed the municipal bar in Garretson, SD and then was employed by John Morrell for 19 years. While in Garretson, he served with the volunteer fire department for 19 years. In 1987, they moved to Estelline, SD where the couple owned and operated the Red Carpet Steakhouse for seven years. They then purchased and operated the Kozy Motel for numerous years.
Loren enjoyed life, socializing was his gift. Hunting and fishing brought years of enjoyment as well as his daily therapy coffee sessions at the C-store. Taking in his grandchildren's events and activities was something he dearly enjoyed. Loren passed away on Tuesday, January 21, 2020 at the Sanford Hospital in Sioux Falls, SD surrounded by his family at the age of 85 years, 11 months and 4 days.
Grateful for having shared Loren's life is his bride of 67 years, Marj Schleuter of Estelline; his six children: Randall (Char) Schleuter, Dell Rapids, SD, Rita (Darrell) DeBoer, Beaver Creek, MN, Roxann (Mark) Westover, Garretson, SD, Paula (Jim) Payne, San Antonio, TX, Kimberly (Royce) Harringa, Brandt, SD and Jay (Holly) Schleuter, Garretson, SD and 19 grandchildren and 24 great-grandchildren and numerous nieces, nephews, cousins and a host of friends.
He is preceded in death by his parents; brother, Vernon Schleuter; three sisters: Laurel Kaiser, Lois Stee and Darlene Teal and two great-grandchildren.