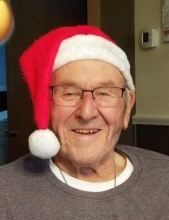 George Skorczewski, age 91, of Hendricks, MN passed away on Wednesday, December 25, 2019 in Marshall, MN. Mass of Christian Burial will be 1 p.m. on Monday, December 30th at the St. John Cantius Catholic Church in Wilno, MN. Visitation will be from 11:30 a.m. to 1 p.m. on Monday, December 30th at the St. John Cantius Catholic Church in Wilno. Burial will be at the St. John Cantius Catholic Cemetery with military honors. Houseman Funeral Home, Birk Chapel of Hendricks is entrusted with the arrangements.
George John Skorczewski was born on August 14, 1928 on the family farm near Canby, MN to parents Michael Adam and Emily Helen (Ratajezak) Skorczewski. He attended country school and continued to help his father on the farm. Working on the farm with his father installed a love for farming that became a life long passion. On June 11, 1952 George was united in marriage to Alice Olsonawski in Orleans, MN. In October of 1952 he was enlisted in the Army and proudly served his country in the Korean War until his discharge on September 15, 1954. After returning from war to his bride they became blessed with nine children that they raised on the farm together where they instilled values of hard work. They shared 67 years of marriage together until George passed away on Christmas morning, December 25, 2019 at the age of 91 years, 4 months and 11 days.
George enjoyed playing electric guitar in the Walters Gang and dancing at the Bohemian Hall in his younger years. He also enjoyed hunting, fishing, playing horseshoes and cards, especially pinochle. George enjoyed working for the Lyon County Fertilizer Plant and hauling grain for the Kramer family. Driving Lincoln County residents around to appointments was fun for him as well as helping his son and nephew at the welding shop. Time spent with family and friends telling stories, visiting meant the most to George throughout the years.
He was a member of St. John Cantius Catholic Church, Knights of Columbus, NFO Board, Farmfest and Groundswell.
Grateful for having shared George's life is his bride of 67 years, Alice; their children: Mary Anderson, Alexandria, MN, Linda Bower, Hendricks, Kenneth Skorczewski, Fairfax, MN, Julia (Larry) Vick, Canby, Margaret Sawchak (Orville) of Marshall, MN, Dorothy (Tom) Sundquist, Bricelyn, MN, Michael (Wendy) Skorczewski, Arco, MN and Mark (Mitzi) Skorczewski, Hendricks, MN; 14 grandchildren and 15 great-grandchildren; two sisters: Lorraine Lipinski, Minneota and Elaine Stynski, Ivanhoe; two sisters-in-law, Florine Skorczewski, Waseca, MN and Leona Chalturnyk, Lancaster, MN and countless nieces, nephews, cousins and friends.
He is preceded in death by his parents; his son, Douglas; three grandchildren: Natasha Skorczewski, Craig Bower and Matthew Sundquist; son-in-law, Dale Bower; three sisters; and one brother.