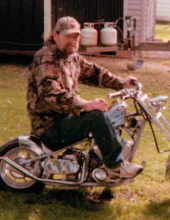 Charles "Chuck" Fleahman, age 54, of Ivanhoe, MN passed away Sunday, January 5, 2020 at the Avera Tyler Hospital, Tyler, MN. Funeral Service will be at 3 p.m. on Friday, January 10, 2020 at the Houseman Funeral Home, Birk Chapel, Ivanhoe, MN with Fr. Ron Huberty celebrating. Burial will be in the Ss. Peter and Paul Catholic Cemetery, Ivanhoe. Visitation will be from 1 – 3 p.m. on Friday at the Houseman Funeral Home, Birk Chapel in Ivanhoe.
Charles John Fleahman was born on July 11, 1965, in Tyler, MN, to LeRoy and Irene (Biranowski) Fleahman. He was raised in Ivanhoe, graduating from Ivanhoe High School in 1983. Chuck served in the United States Army and attended school for HVAC in Mankato.
Chuck was united in marriage to Vicki Sterzinger on August 5, 1995, at Ss. Peter and Paul Catholic Church in Ivanhoe. They were blessed with two sons, Zach and Brett. Chuck and Vicki celebrated their 20th Anniversary by renewing their vows.
Chuck took pride in his family and in maintaining their home and yard. Gardening, reading, walking, building model cars, and watching the news were some of his hobbies. He enjoyed fishing and camping with his family.
Chuck is survived by his son, Zach (Mary) and their daughter, Bexley; son, Brett and his children, Braxton, Brooklyn, and Spencer; sister, Kim (Rod) VanderZiel and their children Dan and Evan; sister-in-law, Rita Fleahman, and her children, Brandon (Megan) and Corey (Kendra); parents-in-law, Pat and Virginia Sterzinger; sisters-in-law, Jacki Studemann and Julie Covey and their children; aunt: Carol Frisby, Pat Fleahman, and Emily Ranisate; uncle, John Ranisate; and numerous cousins, extended family and friends.
He is preceded in death by his wife of 21 years, Vicki; parents, LeRoy and Irene Fleahman; brother, Brian Fleahman; grandparents, Charles and Ann Fleahman, and Leo and Mary Biranowski; and many aunts and uncles.